An empowerment leader is someone who creates mutual trust, and not just someone who only manages.
In organizations that have realized empowerment, managers are functioning as empowerment leaders. They are fully aware of the importance of developing their staff, and have shifted their style from the traditional command and control to trust and followership (empowerment leadership). They promote and support their staff to think on their own, and create plans to achieve tasks, and then to execute those plans.
They start the journey towards becoming an empowerment leader, by learning the basics of a manager.
In order to develop an empowerment leader, confirming the basics of management, which can be called the engine of a leader/manager, providing business results, creating organizations, and developing staff, correctly understanding why these are all important. With that, they can foster leadership that provides the maximum capabilities of staff and the organization.
Example of this program
We have the following program as well. Please feel free to ask about it.
Dialogue Practice for Empowerment Leaders
Executive Coaching
Management Basic
Outline
Managers naturally are sought to provide business results, as part of their responsibilities, and work diligently towards that daily. Meanwhile, even if they know management and business know how, it is people who realize such, and it is people who create a corporate brand, through creating value. Learning how to grow the business, which getting people to grow as well is an absolute for a manager, and in reality, most managers are doing this in their respective workplaces, in their own way. This program utilizes a simulation program*, where you will study not only management knowhow, but will study, through simulation, how to grow the business as a people manager.
Duration
2days program
Audience
Management or project leaders, manager candidates, next generation leaders
Expected deliverables
Understand the basics of management
Personally experience that "Management is people", understanding the importance of HRM (Human Resource Management), and its impact on management
Gain observations related to the relationship between the overall issues in management, based on the company-wide perspective, and your own business
* Simulation program
Introducing the simulation program "Tango™", developed by the Swedish company Celemi
What is Tango™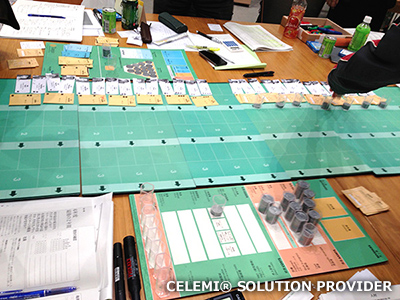 This simulation program developed by Swedish firm Celemi nurtures a manager perspective.
This program simulates the increasing of a knowledge company's market value by performing strategic planning, management, and analysis on key management elements.
Simulated across up to seven fiscal periods, this management simulation lets participants compete to raise market value while learning how closely the influential elements* of management relate to an overall business.
Real settings for evoke the realization of business
Unless you assign work in line with the career goals, employees will quit
If you lose customers, your corporate image will be damaged
Unforeseen issues arise in projects
A year's worth of visible management results
Income Statement
Balance Sheet
Intangible Assets
Teamwork and leadership to be tested
There is a need for each team member to have different roles
Each must provide the maximum contribution to the team
Program
Day1

Introduction
What is management
Year1: Application(understand rules)
Year1: Looking Back
Year3:Strategy, Application, Looking Back
Year4:Strategy

Day2

Year4:Application,KPI analysis, Looking Back
Year5:Strategy, Application, Looking Back
Year6:Strategy, Application, Looking Back
Organize overall reflections(team management status/developing own leadership) and learnings
Create an action plan
Simulation Flow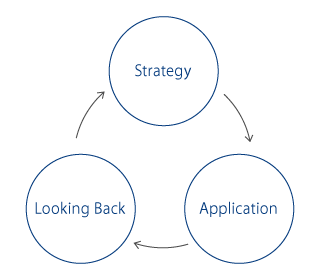 Strategy
Confirm/redefine strategy
Gaining a vision and expertise, optimizing financial strength
Planning to win clients
Hiring and HR placement planning (Project, R&D, training)
Confirm cash flow each period
Application
Winning clients
HR hiring and placement
Project management
Handling unexpected events
Cash flow management, creation of financial reports (IS, BS) and intangible asset sheets
KPI analysis (fourth year only)
Looking Back
Market analysis by facilitator
Comparison by each team of strategy and actual management, and other learning
Empowerment Leadership™
Outlines
Adapting to a quickly changing environment requires managers to lead in a way that empowers their teams. Empowerment raises each employee's feeling of engagement and energy to work, leading to joy as they collaborate and find synergy with others. This course deepens understanding of Empowerment, as managers reconfirm their roles and responsibilities and find out what success factors lead in the direction the company wants to go, so they can guide team members to proactively share values and behave accordingly.
Duration
2days program
Audience
Managers or project leaders, manager candidates, next generation leaders
Expected deliverables
Bring out capabilities of staff, create collaboration, understand empowerment leadership
Envision the stance sought for of own organization/team
In leading the direction sought for in the organization, objectively understand your own influence on the organization
In order to empower your own organization/team, create a plan related to specific actions
Program
Theme
Contens
What is empowerment

Philosophy and behavior of empowerment leaders
Roles and responsibilities of empowerment leaders

Understanding of the direction the company is taking, and envisioning our organization

Understanding the mission, vision, behavioral directions
Envision and empowered organization
Envision your own department

Current status analysis

Level of organizational empowerment, own leadership

Practicing empowerment leadership

Motivating employees
Developing collaborative relationships
Shifting to supportive leadership
Level and style of decision making

Action plan

Actions for realizing empowerment