We, at One Associates, are working to create a new corporate culture, and to improve your adaptability to change
In this ever-changing environment, to develop into an organization that creates continuous growth, this requires a superior vision and management strategy, that has the future in mind, with activities aligned to this vision and management strategy, and moreover, this requires a corporate culture and behavior model that can acutely adapt to a significantly evolving environment.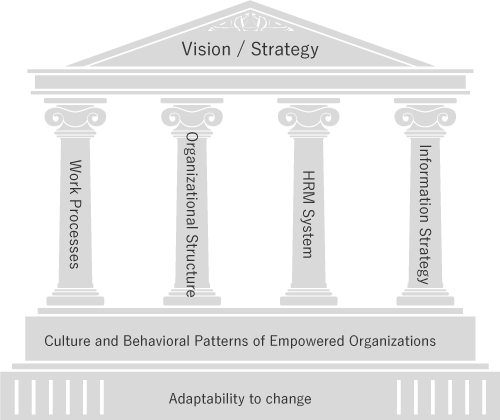 Embrace "Empowerment" in your corporate culture
A highly adaptable corporate culture and behavior model, in this new environment, is a corporate culture and behavior model of empowerment, that can bring out the maximum capacity of each and every employee. We, at One Associates, are fostering the corporate culture, in order to build a corporate culture of empowerment, develop self-reliant and self-disciplined individuals, and develop empowerment leaders that have a huge influence on realizing these two.
Leaders would need to pay attention to the human side of change in order to ensure transformation
In the circumstances of these days, where the size of transformation is tremendous, and happening so quickly, in order to be on the sure track to acquire a corporate culture and behavior model of empowerment, one factor that cannot be left out is the raising of each individual's capacity to change.
Overcoming change, and creating an organization realizing empowerment is exactly the mission of One Associates.
One Associates service menu
Developing next generation leaders
Our company attributes
There is a moment that inspires people to change
From this "fork in the road" moment, we become aware our great potential, and we start creating amazing value.
We dialogue with executives, leaders, and individual employees to create these moments every day.
Learning and connections derived from dialogue
This is not a format where you gain knowledge from a unilateral lesson from the facilitator, but this is a format of plenty of multi-way dialogue between the facilitator, participants and others, with the facilitator making participants think, through asking them questions.
Facilitation of ones with a wealth of experience, along with naturally seeking the participants to actively participate, they will get them to be able to learn from each other.
The Five basic requisites that are emphasized
We have defined the five basic requirements for how to see things, how to think and the methods of philosophy, sought for from personnel that behave proactively, in a global environment. The program provided is not simply skill set training, but places an emphasis on how to display behaviors, being aware of these five basic requirements. In challenging the dialogues thrown out by the facilitators, the participants gain insight, which will support their being able to act, being aware of the five basic requisites.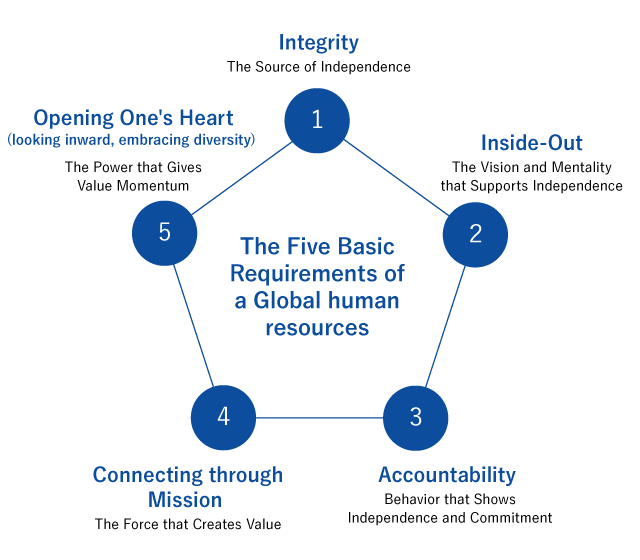 Rich experience in fostering implementing global-standard leadership in the workplace
Through our extensive experience providing leadership development support for some of the world's largest companies, we have kept in constant contact with leadership trends as we have time and again implemented the latest research in the business workplace. We also draw on a rich history of teaming with consultants and facilitators from around the world to develop methodology and content for leader development.