The organization has changed, but what about the awareness and actions of the people therein?
In promoting transformation, while there is a day of change in the organizational structure and business processes, it is very rare to have the awareness and behavior of people change in a moment's time. In order for people to accept and proactively move forward with change, this usually takes time, which differs from person to person.
When you come to understand the intents of the heart, you will be able to recognize the next action to take towards change.
When faced with change, people's hearts take on a certain fluctuation, in what is called "Transition Curve™". They recognize their reaction towards change, and by learning how to appropriately adapt, it is possible to smoothly transition through this "Transition Curve™".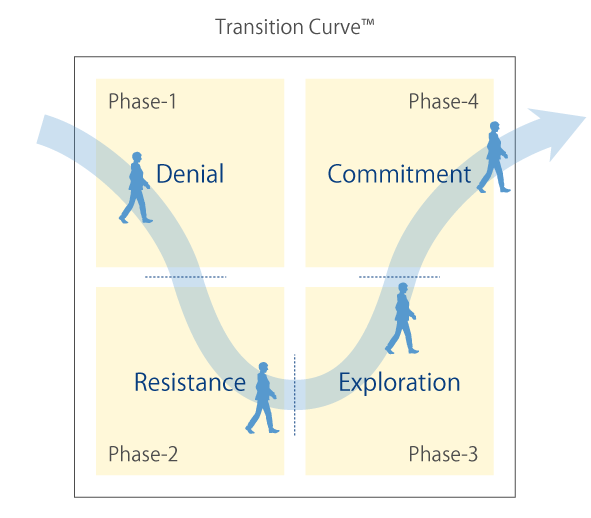 *Transition Curve™ is a theory promoted by Dr. Cynthia D. Scott, who is a famous American organization transformation consultant, who also happens to be an advisor to One Associates.
For details on Dr. Scott
The key to shifting to a global mindset, that sees change as a chance for growth
Depending upon how you view change, you may see it as a chance, or a threat. Shifting to a global mindset, thinking and acting as if you can grow through experience and effort, taking on challenges, without fearing failure, leads to enhancing your resilience.
Example of this program
Mastering change™
Outline
Using the model called the Transition Curve™, understand people's responses to change, the phases they go through. This model is highly recognized as the process all individuals and groups go through to adapt to and overcome change. The participants observe how they respond to change that they are currently facing, and learn skills and philosophy to lead them to the next phase for them to overcome change.
Duration
1/2 – 1day program
Audience
Any employee can participate. This is beneficial to those who have experienced major change in the workplace, or those who will probably face it in the future.
Expected deliverables
Identify factors in the background to organizational change
Become aware of how you are addressing the changes currently being faced with
Accept and express your own feelings towards change
Recognize and let go of items to be lost through change
Identify things you can control, and plan and execute actions to overcome change quickly
Program
Theme
Contents
Mechanism of human brains

Understand what responses the human brain has towards change
Understand the impact emotions have on behavior

Understanding change

Consider where this is coming form, and why is happening, for the changes you are facing

Transition Curve™ (When faced with change, people's minds tend to travel a certain transition curve)

Come to know your current position in the Transition Curve™
Characteristics of the 4 phases in the Transition Curve™

Case study: "Power of a positive perspective"

Understand the philosophy and stance for overcoming change

4 skills for overcoming change

Understand the skills required to overcome each of the respective 4 phases of the Transition Curve™
Self Empowerment™
Outline
No matter what is happening around you, people who are being proactive in their actions, constantly being aware of the vision, will contribute to the continuous growth of the company, realizing their own growth are true professionals. Under this program you will gain a foundation allowing you to empower yourself, in looking towards your own growth, through self-observation on various themes, based in the Growth Mindset.
Duration
Half to a full day program
Audience
While any employee can participate, this is a program effective for those who have experience huge change in the field, or young employees, prior to becoming managers.
Expected deliverables
Grasp your own mindset and learn the method for switching from a fixed mindset to a growth mindset.
Clarify your internal motivators (values, beliefs, mission, own vision, which is the base for your proactive actions.
Consider what you want, through work, gaining direction to take proactive actions towards realizing such.
Program
Theme
Contents
Mechanism of human emotions

Understanding inside-out
Growth Mindset

The reason I work here

What things have I gained or want to gain from work
Reflect back upon choices made to date

Create own vision (career vision)

Create own vision(career vision)
Characteristics of the philosophy to realize the vision

Challenges to realize the vision

Think triple win
How to fulfill responsibility and accountability

Action plan

Actions to maximize value provided to company/customer, while experiencing personal growth