The organization has changed, but what about the awareness and actions of the people therein?
In promoting transformation, while there is a day of change in the organizational structure and business processes, it is very rare to have the awareness and behavior of people change in a moment's time. In order for people to accept and proactively move forward with change, this usually takes time, which differs from person to person.
When you come to understand the intents of the heart, you will be able to recognize the next action to take towards change.
When faced with change, people's hearts take on a certain fluctuation, in what is called "Transition CurveTM". They recognize their reaction towards change, and by learning how to appropriately adapt, it is possible to smoothly transition through this "Transition CurveTM".
We provide a program called, "Mastering Change", through an alliance with a famous American organizational thought leader Cynthia D. Scott Ph.D., M.P.H.
Cynthia D. Scott,Ph.D., M.P.H. One Associates advisor
After serving as Vice-President of Saatchi & Saatchi, in her previous position, she went on to establish ChangeWorks Lab, where she has over 25 years of experience as an organizational consultant, author, and executive coach, leading numerous organizational transformations. She is a professional with tremendous experience in designing, developing and executing major organizational transformations, as well as developing leadership. She has functioned as an advisor to major corporations and government agencies, such as Google, Bank of America, IBM, Deloitte & Touche, and the Internal Revenue Service etc.
Dr. Scott focused on the"Transition CurveTM" of the intents of the heart, when people are faced with change. In order for each person to overcome change, and appropriately manage change, she has contributed to promoting numerous corporate transformations, through providing support with this"Transition CurveTM".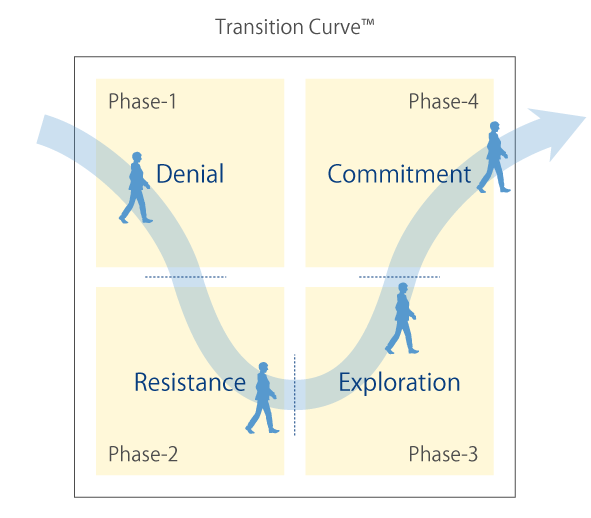 Special
Example of this program
Mastering change
Outline
Using the model called the Transition CurveTM, understand people's responses to change, the phases they go through. This model is highly recognized as the process all individuals and groups go through to adapt to and overcome change. The participants observe how they respond to change that they are currently facing, and learn skills and philosophy to lead them to the next phase for them to overcome change.
Duration
1/2 – 1day program
Audience
Any employee can participate. This is beneficial to those who have experienced major change in the workplace, or those who will probably face it in the future.
Expected deliverables
Identify factors in the background to organizational change
Become aware of how you are addressing the changes currently being faced with
Accept and express your own feelings towards change
Recognize and let go of items to be lost through change
Identify things you can control, and plan and execute actions to overcome change quickly
Program
Theme
Contents
Mechanism of human brains

Understand what responses the human brain has towards change
Understand the impact emotions have on behavior

Understanding change

Consider where this is coming from, and why this is happening, for the changes you are facing

Transition CurveTM(When faced with change, people's minds tend to travel a certain transition curve.)

Come to know your current position in the Transition CurveTM
Characteristics of the 4 phases in the Transition CurveTM

Case study: 'Power of a positive perspective'

Understand the philosophy and stance for overcoming change

4 skills for overcoming change

Understand the skills required to overcome each of the respective 4 phases of the Transition CurveTM